#Paradise of Entertainment
Experience every moment all day and night! Enjoy the full access to all rides & attractions and be prepared for loads of fun, shows, kids activities and Fun-tastic Paradise of Entertainment. Daily at the only water park in Bahrain.
Follow us on social media to obtain daily updates on our activities. Instagram or Facebook #LPODWATERPARK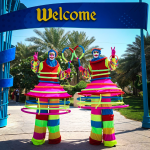 Stilt Walkers
Stilt Walkers bring their characters to life, surprising and delighting guests. Our amazing stilt walkers will delight both children and adults!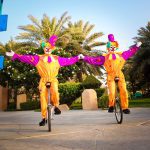 Unicycle Duo
These two artists are natural entertainers who know how to create an exciting environment. Juggling, unicycling, acrobatics, and other acts are featured.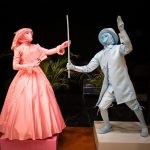 Human Statue
Remarkable living statues will catch the attention of guests of all ages. Sensational street performers create classic looking statues.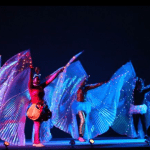 Paint the Night Show
Light up the night and be dazzled by the LPOD entertainment cast's enchanted music and glow-in-the-dark winged dance experience.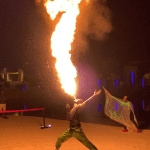 Glow & Fire Show
The thrilling fire act will astound and excite audiences of all ages.